In the year 2015, ABC's new comedy, Fresh Off The Boat, should not be groundbreaking. It should not be desperately needed. It should not be covertly and overtly revolutionary. But it is. Here's to shattering ceilings, cracking windows, opening doors, and anything else that lets breeze of humanity clear out the stale air of misperception in our minds and in our media.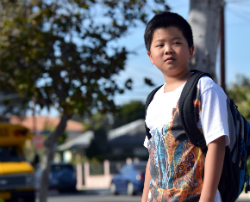 Many people have been – and continue to do – exceptional work in presenting the full range of the lived experiences of people from all the diverse communities that we commonly lump together under the umbrella of "Asian American". Let's continue to seek out and support these efforts in all their manifestations.
With that said, I will stay in my lane…and leave the social and cultural analysis to the better qualified…and I will simply enjoy being a fan of good writing and good acting. Where do we begin?….
1) The Music – FOTB (is it too soon to go with the acronym?!) begins where all proper discussions of the 1990s should…with hip-hop. After the past few months of hand-wringing and Grammy-committee side-eyeing…I can not express how much happiness it brings me to know that a generation of young people is receiving a formal survey course in the 3rd era of hip-hop from a network that wouldn't have played a single one of these songs when they came out in the mid '90s.
2) Eddie's T-Shirts – Before Hypebeast, before American Apparel, before sneakers became the new baseball cards, before leather sweatpants, before "lumber-sexuals"…boys wore t-shirts…good old, regular, cotton t-shirts. Eddie Huang's hip-hop fashion and record label logo t-shirts remind us of a time when hip-hop emulation was accessible to the average kid from a working class family. Top rappers have always openly displayed the spoils of the high-life, and even by the FOTB-period of the mid-'90s, Russell & Puff had already put generational distance between themselves and the financial status of the hip-hop masses. Even so, for about $20, you could participate in the culture back then…hopefully, we can find a way to get back to some of that accessibility in the next generation of urban culture.
3) Grandma Huang – I don't know if Uncle Snoop had a grandmother like this…but I wish I did!
4) Hudson Yang – Shouts to the Casting Director! This young man and Rico Rodriguez (Manny from Modern Family) are like the Steph Curry & Klay Thompson of acting…best backcourt in America!
5) The Writing – At the beginning – and end – of the day, none of this other stuff matters if the show isn't funny….and the show can't be funny without good writing. My favorite three lines so far:
"Do me a favor. Go find a homeless man. Ask him if he thinks money matters. Tell me what he says." – Eddie's mom
"Sit elsewhere B.I.G." – Walter (Eddie's first nemesis)
"Damn it, that was beautiful. That filthy music you listen to turned you into a poet boy." – Eddie's dad
That last line…well, that's what we've been trying to say all along. Now you know.
– Day G.
Host, Class of Hope & Change