No one said it would be easy. But they didn't say it had to be complicated…
What would you do if you only had 7 days left on Earth? I'm not sure, but as I sit to write this, I have 7 days left as a resident of New York City…and I knew exactly how I wanted to begin the final page in this chapter of my life.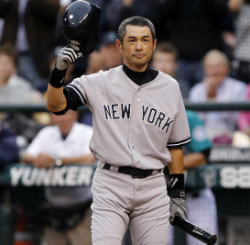 For the past ten years, I have made it a point to make my way to Harlem a couple times each year for the Sunday morning worship service at the historic Abyssinian Baptist Church. Every time I walk out of that building, I have found myself refreshed, rejuvenated, and ready to get back to The Struggle.
While many churches have gone the All Digital Everything route with TVs, monitors, and touch-screen interfaces; sometimes a good ol' paper handout is just what's needed. Such was the case today, as I flipped through Abyssinian's pamphlet of upcoming events and saw the following image on page 12: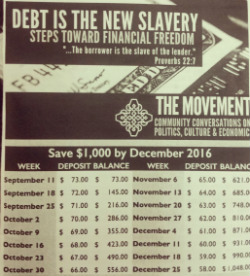 This straightforward, black-and-white, weekly payment plan to yourself captured my attention for the next 10 minutes of the service.
IN FOUR MONTHS YOU COULD HAVE $1,000!
That sounds like the sales pitch for a bad pyramid scheme, the suspect heading of a part-time job posting, or the subject line of a sketchy email from an unknown sender.
But it's not. It is, in fact, the distillation of this summer's resurgent Bank Black movement. It is the personal work that parallels the collective work of marching in the streets. It is the economic embodiment of BlackLivesMatter.
It is the call to each and every one of us in this Election Clapback moment.
I'm not going to run down all the ways you can pull together $50-$60 a week. If you haven't really budgeted your money or put a personal savings plan together before, just start tracking every dollar you spend (cash or credit) for the next 7 days. It's a beautiful (and terrifying) thing when you start really looking at where all your money escapes to each week.
Instead, I want to paint a quick picture of how different your life (and your community's life) could be if you, your friends, and your family started saving $50 a week.
If you just took $50 a week and put it in a well-hidden shoe box in your home every week for the next year: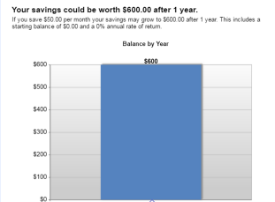 Don't think $600 is a big deal? Do a quick web search on how many Americans today don't have $400 cash to cover an emergency.
According to the September 2016 U.S. Labor Department Employment Report, there are nearly 32 million Black/African-Americans who are not currently in active military service, inmates of a correctional facility, in a nursing home, or living in a mental institution. Of the 32 million, there are 18 million people who are considered employed by the U.S. federal government.
For the sake of this argument, let's assume there are a few more people getting paid than the government knows about (hypothetically, of course!), and round up the number of Black folks with some kind of earned income to 20 million.
If ONLY 1% of us (200,000 people) took $50 a week and put it in well-hidden shoe boxes in our homes every week for the next year: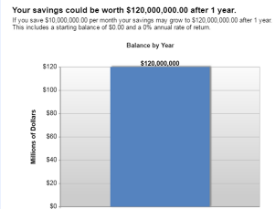 Let's continue. There are nearly 20 cities in the United States that have Black/African-American populations of more than 500,000 people:
New York City
Atlanta
Chicago
Washington, D.C.
Philadelphia
Miami
Los Angeles
Houston
Dallas-Ft. Worth
Detroit
Baltimore
San Francisco/Oakland
Norfolk/Virginia Beach
St. Louis
Charlotte
If 200,000 Black people who live in each of the 16 cities above (which is less than 50% of the Black population of Charlotte, 11% of the Black population of Atlanta, and 6% of the Black population of NYC)…took $50 a week and put it in well-hidden shoe boxes in our homes every week for the next year: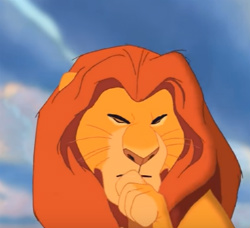 We would have $160 million saved each month from Black people in just the 16 cities listed above. If we kept it up, by this time next year we would have $1.2 BILLION!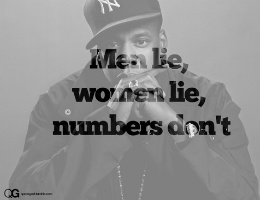 Think about how quickly the conversation in this country would shift if Black people gathered $1.2 billion dollars in one year with no government program, no corporate initiative, no nonprofit/foundation grant, and no letters to Ms. Oprah Winfrey.
Think about how different your life would be if you had $1,000 in the bank on New Year's Eve 2016 after your regular bills were paid. Think about how different your children's lives would be if you helped them save $50 a week, every week until they graduated from high school?
In the words of J. Cole:
"I said do you wanna, do you wanna be, free
Free from pain, free from scars
Free to sing, free from bars
Free my dawgs, you're free to go
Block is hot, the streets is cold
Free to love, to each his own
Free from bills, free from pills
You roll it loud, the speakers blow
Life get hard, you ease your soul
It cleanse ya mind, learn to fly
Then reach the stars, you take the time
To look behind and say, "Look where I came
Look how far I done came"
They say that dreams come true
And when they do, that there's a beautiful thing
Do you wanna, do you wanna be happy?
I said do you wanna, do you wanna be free "
– Day G.
Host, Class of Hope & Change