Joshua is from Brooklyn, New York. At the time of his interview, he was completing his final semester of college in New York City, and spending most of his days "studying for the CPA (Certified Public Accountant) exam."
Joshua's Most Likely To is: Most Likely to Have a Stable & Steady Career
Listen to "Conversation 8 (Joshua)" on Spreaker.
We talked about whether he is "all the way stable" in every area of his life:
"I think I'm stable in all forms of life. I have some pretty crazy friends…they go pretty hard when they're clubbing and things like that…but I feel like I'm the voice of reason among them."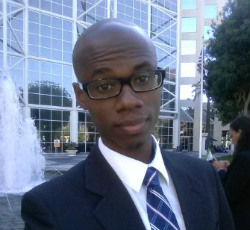 Joshua told us about some of the people he follows on social media:
"I follow a lot of people…on Instagram, I'll follow some celebrities, but that's because it's Instagram and you have to follow them. It's like the unwritten rule…but there are other people I follow too.
I've been really into politics lately, and I follow The Young Turks on YouTube. They are a progressive news site that is solely online. I feel like the cable news networks – because they're financed by large corporations – are very limited in what they can say, or who they can be critical [of]…so I go to an online news site to get alternative views."
He talked about the impact of his mother's accomplishments as a Haitian immigrant to the U.S.:
"I look at my mom, she came here when I was two. We were very poor…she would have to clean the streets and stuff like that. This is while I was very young, so I don't remember it clearly, but she tells me about it all the time.
But she was focused, she went to nursing school, she got her degree and went back to become an RN (Registered Nurse). Now, we're in an apartment building…she's not cleaning streets anymore…she works in a hospital…and to see her go through all of that…I have no excuse not to succeed, because she literally came from nothing."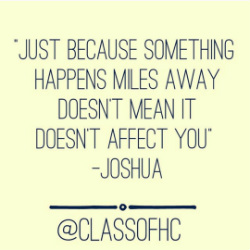 We talked about what allows him to identify with the life struggles of people who are different from him:
"What happens to them, you know, that could happen to anyone. When Trayvon Martin was shot, Mike Brown was probably watching the news [thinking], "that could be me"…and it was him.
Just because something happens miles and miles away doesn't mean it doesn't affect you. You can't just not care…This is your country. People are suffering. You have to speak up about it."
Joshua also talked about the benefits of traveling out of the US:
"When I traveled abroad, I feel like not only did I get a better sense of Europe, but I also learned a lot about myself…I learned how much I like to explore areas by myself and just take it all in.
I [also] got a better sense of how people from other countries view Americans."
Listen to our full interview with Joshua
Check out some of the organizations that inspire Joshua:
National business fraternity for undergraduate students, Beta Alpha Psi