Maryka is from Brooklyn, New York. She was a third-year college student living in western Pennsylvania at the time of her interview. Her days were spent "usually working, dancing with my dance team, and spending time with my family."
Maryka's Most Likely To is: Most Likely to Be Successful
Listen to "Conversation 7 (Maryka)" on Spreaker.
We talked about how the celebrities she follows on social media motivate her:
"I follow them because [seeing] them posting pics of their [lives] brings me inner motivation. I see the vacations they're going on…the cars they're driving…and just how happy they appear to be. And subconsciously, it pushes me…and I want the finer things in life as well.
So when I look at their pictures, and I have access to their [lives], and I can see what they're doing – and what I'm not – it pushes me to want to work just as much as they are."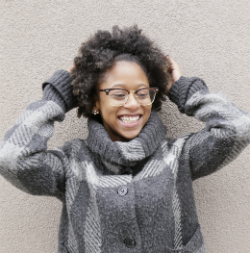 Maryka shared a bit about her natural hair journey, and what going natural has meant to her:
"I embrace my natural hair because it's all me. I'm not doing anything to change the texture of it, or to change the curl pattern of it. I'm not trying to conform to America's standardized [definition of] beauty.
…I guess it comes down to [not wanting] to be like anyone else but me. I felt like [when I was] perming my hair…I was being someone else. I was sitting under a dryer and getting intense heat damage, coloring my hair just to be conformed to this standardized idea of what beauty is.
I just learned that I want to be me, I want to be myself…and I feel like my hair is unique, and it's beautiful, and I should embrace it by wearing it in its most natural state."
She also shared what she sees in her hometown, and in the country:
"I see [that] we're all hustlin'. I see all of us trying to grind to reach this one common goal – which is eternal peace and happiness. I feel like America is a hustle. The government is a hustle.
Our parents going to work every day, us going to school…going in debt for it…I feel like what I see in America is that we're all just trying to make it out, and hustle, and not be a statistic.
I can't say that's for everyone, but I feel like even the dealers that I grew up [with] on my block, I feel like they're hustlin'…and that student [who's] going to Columbia University, he's hustlin' too. [They are] two different hustles, but we're all trying to achieve the same thing."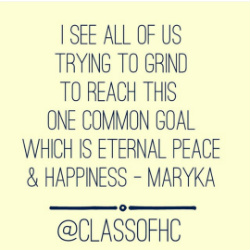 Maryka also spoke about the role that mentors have played in her life:
"I would first like to shout out Big Brothers, Big Sisters. My mom put me and my little brother in that when I was ten and my brother was eight. They matched me…I had a Big Sister.
She was white and she was from North Dakota…it was completely different. Her and I got really close and we actually still keep in contact to this day. She's married now. I learned a lot from her.
Before, I was just around people from New York City…but to meet someone from North Dakota, and see how they maneuver the world, and how they feel about life, and how they feel about the issues going on.
…I learned a lot, and not a lot of my peers had those experiences…it made me not think so much into a box."
Listen to our full interview with Maryka
Check out some of the organizations & programs that inspire Maryka: