Camille is from Brooklyn, New York. She was a college student living in Brooklyn at the time of her interview, and was spending her days "either working, going to school, or sleeping."
Listen to "Conversation 58 (Camille)" on Spreaker.
Camille's Most Likely To Is: Most Likely To Not Give Up
We talked about the difference between students' mood they first get to college and their mood after a couple of years, and her advice to visiting high school seniors:
"I tell them how it is! I'm not sugar-coating anything because I don't want to build their hopes up; and [then] they come to college and they see what it is for themselves.
You know, I tell them: This is how it is. This is what you should do when you get here;' so they won't make the same mistakes as previous people did and they'll have successful years in college.
So for me, I've gone away to school and now I'm back home. I feel like the misconception is…yeah the party life and the campus life is all good and well; but once when you're behind in your classes, that's when it hits you. Sometimes college is known for that party life and that wild life, you know…in your young years. But comparing going to a college away and going to school locally, it's really different."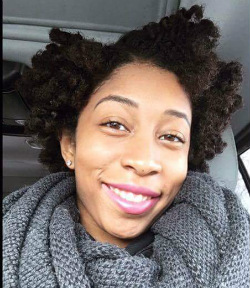 Camille explained why "not giving up" best describes this moment in her life:
"When I say I don't give up…I've been through a lot lately. I would say from the time I graduated high school until now, life has really hit me in ways that I wasn't expecting it to. So I feel like, after all this stuff, I just keep pushing. I put the best foot forward and I just have a lot of faith as well, you know. I just try to stay positive and think on the brighter side and look on the brighter side. 
I've always had really great support system when it comes to family and them telling me not to give up, and to keep the faith. So I really feel like having a good support system is key."
She described the important role her family plays in her life:
"I feel like family has become more important to me. I've noticed that I've mentioned family a lot, but family is really key. Kinda having somewhat of a…not a broken family…but everyone does not see eye-to-eye…I feel like that unity and that union is very important growing up in this [day] and age.
'Cuz a lot of people are really disoriented and they don't really have their family – they don't really have anyone – to support them."
She spoke about how her social circles and her support system complement each other:
"When it comes to people that I socialize with, I always have like-minded people around. I do have certain people that I associate with [who] don't act like me, but for some reason it complements the friendship…and the situation, sometimes.
I always try to associate myself with like-minded people so that I can always keep on track with what I have to do or you know,  just life in general. Because you don't want any bad vibes or negative people in your life."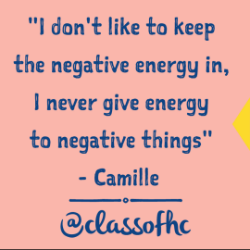 We discussed why she's "not really there" for social media:
"Like yeah, I go on it, but to actually follow people and just look at their lives…I feel like everyone is running their own race. Some people can inspire me…but I don't really get into social media like everyone else does…I feel like social media  and technology itself has kind of taken over our lives in a very dramatic way. Some people might see that, some people might not."
Camille talked about what she sees in the country right now, and how she practices self-care in this moment:
"I see a lot of frustration and hate, you know. I don't see happiness, I don't see anyone coming together. I feel like those things are really going to bring people down…that's basically what I see with everything that's going on.
Definitely pray…that's the first thing that I do. I always like to keep busy. For one, I dance. Two, I sleep. I don't like to keep the negative energy in. I just try to find different ways to take my mind off of certain stuff, I never give energy to the negative things.
I do a lot of African dancing. A little bit of hip-hop. A lot of reggae dancing. And certain stuff, if I feel the music, if I like the music, then I'll just dance you know?"
Listen to our full interview with Camille