Quaneesha – better known to friends and fans as Mimi – is an NYC-based actor who is a member of the quartet of young Black women at the center of the new movie trilogy, She EVIL.
We sat down with Mimi a little while back, at the beginning of her acting journey. At the time, she was spending her days "just working…I work every day. And if I'm not working, I'm either in acting class or I'm at home hanging out."
Mimi's "Most Likely To" Is: Most Likely to Be Trying to Balance Everything
Listen to "Conversation 53 (Mimi)" on Spreaker.
Mimi explained how she began taking acting classes:
"I ended up in acting class because I knew I needed some type of structure. I thought it would be easier to just go in and do it, but then I [was] like, 'where am I going to start from?'
So [I figured] acting classes probably have all the connections, they could tell me how to go about making a resume, head shot…I could also meet new people…but I mostly take acting classes so I can be more professional."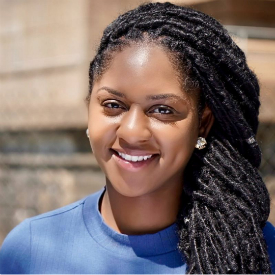 We talked about the many aspiring actors who arrive in New York City and Los Angeles every year, and about the biggest misconception these young hopefuls should check at the door while chasing their acting dreams:
"[The biggest misconception is] that they'll get discovered within a year. The biggest thing is, 'okay, I'm doing acting. You know what? Let me go audition. I know I'ma get that role.' It's the expectation of getting a role.
Check yourself, because you will spend so many days sad and thinking twice about what you want to do as far as acting, if that's your only mindset…That's where I started. Like, 'yeah I'm going to go audition; I know I'm going to get this role.' You just start picturing yourself on the red carpet, who you're going to take on the red carpet! And it's like, you don't get the role and your dreams are shot down kind of. So it's like a reality check.
I just think if you're coming here, it's okay to have goals, but don't get upset if you don't accomplish those goals, in a way. Because it's so easy to think that just because it's New York and there are so many acting opportunities out there, that you're gonna be discovered immediately."
Mimi spoke about how she maintains boundaries around her personal life while remaining active on social media:
"For some reason, I don't like to follow people who I really do not know. If I do not know you, I will not follow you. It's weird.
You know Facebook is still a great way to connect with other people and actors…Someone told me that since I was getting into the acting world, I should be okay with certain people following me.
…I think everyone is so used to random people following you, and they think that's the norm. I just kind of find it creepy. It's one of those things where I want to have [a lot of] followers, but it's kind of weird and creepy to me at the same time.
…I do not put my personal life on Facebook as much. Before, when I first started with Facebook, I used to put everything up. 'Going to the store. Going here, going there.' As you grow up, you see that all that is not useful. Everybody does not have to know your every move."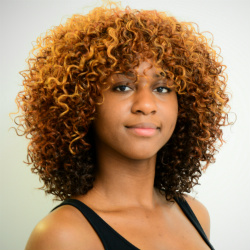 She talked about her path of personal growth over the past few years:
"Freshman year of high school…I had no clue [about] what to do in life. I didn't have any goals on what I wanted to be. Like you know people sometimes [say], 'I wanna be a police officer, or this…' I didn't have any plans on what I wanted to do. I just came in…with an open mind.
Acting wasn't on my mind then. I used to watch and say, 'oh okay, that's cool. I would want to get into it.' But it wasn't something that I was like you know what, I'm gonna go in high school and start something, I'm going to be a part of something…no…I was like a blank page. I was just trying to figure out what life would be like.
…I'm still myself. My goals…that's the only thing that I would say, my goals have just changed. I'm not into materialistic objects. I'm not into not really being myself. I'm still a blunt person. I'm always truthful with everything.
I probably hold my tongue more…Before I'd be more vocal. That's what's changed. Before I didn't care about how you felt if I told you something…but now I'm more like, 'okay, I think this might hurt this person's feelings.' So I try to go about it differently."
We talked about her experience growing up with a twin sister, and how their relationship has evolved over the years:
"What I tell people is, having a twin sister, I describe it as having a sister that just happens to be your age. I don't really think that we look alike, maybe that's why. I don't really say that we look alike. People are like, 'oh you guys look alike! There's no way, you guys look just alike!'
We weren't the twins that had to have matching everything. We had our own personalities. We had friends in common…and I think I just mostly steal her friends…I think she's more diverse with her friends, being that the college that she went to made her have more diverse friends.
…we didn't do things together. Now that I think about it, we didn't spend that much time together in high school…it wasn't [one of] those 'wherever she's at, I'm at' type of things. It wasn't until college when I went away to school…that's what made us closer. Being away from each other…really away. Like not in the same house. It made us hang out more and I guess essentially, do what twins do. It made our bond stronger."
Listen to our full interview with Mimi
Check out some of the other creatives who inspire Mimi