Malika is from Brooklyn, New York. She was living in upstate New York, completing her final semester of college at the time of her interview. She spent most of her days "running organizations, working as a resident assistant, participating in poetry communities and [other] campus involvements like crazy."
Malika's Most Likely To is: Most Likely to Speak Her Mind
Listen to "Conversation 5 (Malika)" on Spreaker.
Malika spoke about her passion for spoken word poetry, and the role it plays in her life:
"It's poetry that's more politically and socially driven. It's not necessarily dealing with the romantic or focusing on any ideal that could be romanticized. It's speaking about what's real…and giving a voice to the people who are typically unheard."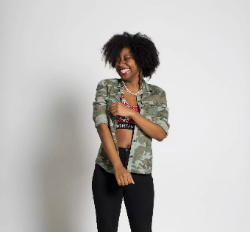 We talked about some of the people she follows on social media, and the balancing effect they have in her life:
"I follow them because they are people who were very instrumental in the protests that have been occurring since [2014]…the vigils…and all the events that have gotten people more motivated to participate in fighting the social injustices that affect us.
I look more towards those outside sources mostly because the conversation within my family can be extremely limiting, and different perspectives on social issues can be easily dismissed.
But these individuals…they're contributing to it…they're having these conversations…they're understanding the viewpoint of the Black body…and me being bi-racial, that's something that's important to me."
Malika told us about her path to become a more confident person:
"When I was a freshman in high school, I was still trying to figure out how to fit in. I was awkward…I lived mostly for others, in the sense that I always tried to impress other people, or receive their validation on everything that I did.
I always had strong opinions, but [they were] always subject to change so I could be like everyone else…it didn't develop into something that I caught myself and stopped doing [until] towards the end of high school…I'm just grateful for the resources I had, and taking advantage of them, because I would not be here without it."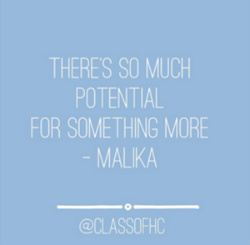 She reflected on some of her life experiences growing up as a bi-racial Afro-Latina:
"My identity has been something that I've been trying to make sense of for years…I'm still just right in between figuring out what being bi-racial really means and it's something that I've always been very sensitive to.
Phenotypically, I look Black. I also have another culture, but people have always been very dismissive when it came to that…It was only until my junior year of college – this was last year – that I was able to stand in front of the mirror and tell myself that I loved myself.
…trying to figure out the aspect of myself that was real. Identity…it's been a lot of trying to understand and better myself."
We finished our conversation by talking about Malika's vision for the future:
"There's so much potential for something more…I see the world in poetry. I understand things in lyrics. Words are everything for me, so seeing those who feel like they have their voice – and those who feel like they don't – it's important to me.
It's something that I always want to help people come to terms with. That their voice matters, and that they have something to say."
Listen to our full interview with Malika
Check out some of the organizations & programs that inspire Malika: