Alberto was born in New York City, raised in Providence, Rhode Island, and spent most of his teenage years in the Dominican Republic. He was beginning his first year as a transfer student at a university in Rhode Island at the time of his interview.
Alberto's Most Likely To Is: Most Likely to Work Hard Towards Becoming Successful Without Forgetting Exactly Where He Came From
Listen to "Conversation 49 (Alberto)" on Spreaker.
Alberto shared some of his memories from his childhood days in Providence:
"To give you an idea of just what my mindset was…not just my mindset, but my environment…I didn't even know much about Brown University when I was living in Providence. During my time there, I think I always lived like 10-15 minutes from Brown.
And I never went. I never visited, but that's not a negative thing. It's not. It's not a bad thing, it just shows where I was at the time…for me it was mostly: Go to class, come back home, do homework, play PlayStation. In the summertime I would play little league baseball…and that was basically my routine throughout the year."
He explained why he believes success is connected to hard work:
"It really has to do with a combination of a couple of things. My family – my mom, my dad, my uncles – everybody who represents my family. People around me. My community. Just my environment, I've always seen people work hard. I've never had the privilege to be around people who have always had [things] their way, or who always had it easy. For me, I grew up seeing that everything takes hard work."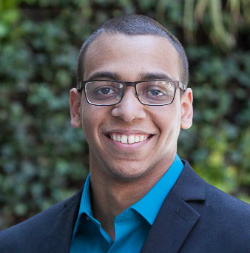 We talked about how he earned his GED in two months, enrolled in community college one week later, and fought through the early challenges of college life:
"I'm not going to lie, they weren't the most difficult classes in the world; but at the same time, for me they were the most difficult classes in the world…because of where I came from.
I feel like that's one thing I wish we could all do…remove standards from things. Like, 'oh yeah, like five classes is the regular.' Or 'oh, this class is an easy course.'
It's not an easy course for somebody who struggles in the course. It's not an easy course for someone who doesn't have the foundation to take the course. It's not an easy course for somebody who hasn't been in school for the past four years, you know. It was steep learning curve."
Alberto described the camaraderie he found with the students at his community college:
"I was in a room full of people that…one of them had four kids, and still had a 4.0 G.P.A., and had two jobs. I was in a room with somebody that had similar struggles as me. I was in a room with [people who] came from the same community I did.
I was in a room with someone who spoke my language. I was in a room with people who understood my struggle, and I understood theirs. I was in a room with people who, even though we had different goals, we had the same hustle."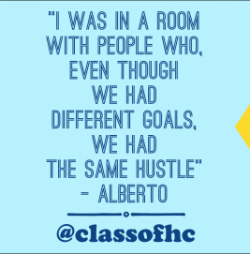 He talked about what he sees in the world now, and about what he hopes to see in the future:
"I'm seeing a lot, let's start off with that! I'm seeing a lot. One of the things that bothers the most that I'm seeing…I just feel like I'm seeing a lot of lack of resources for those who need it. Not just in this country, but I feel like in the whole world.
When you think about the numbers of people who are not going on to be their best selves. For example, like me, the community college student…there's a very low percentage of minority [students of color] that go to community college [and] graduate, and transfer to a four-year level, and graduate…go out there and just look at the numbers.
When I say lack of resources, I mean for things like that. When I say lack of resources, I mean going around the world and just seeing that we have all these very innovative people who have all these good ideas, but they're stuck because they don't have enough support, or they don't have the resources needed just to move forward.
And it's not just to make them successful; a lot of those people have innovative things to share that will make society a better place for all of us."
 Listen to our full interview with Alberto
Check out some of the organizations that inspire Alberto: