Jasmine is from Brooklyn, New York, and was living as a first-year graduate school student near Baltimore, Maryland at the time of her interview. Her days were spent "on a very strict routine, during the school year. I go to work, come home, do my work, and go to class. I try and squeeze a gym day in here and there, but it's mostly studying and going to work."
Listen to "Conversation 47 (Jasmine)" on Spreaker.
We talked about the difference between the city of Baltimore and Baltimore County, and about representing for your hometown:
"I will say, the people that I've met from Baltimore city are really proud to be from Baltimore city. They just have a great sense of pride for their city; and I understand that coming from New York because I make a clear distinction like, 'I'm not from here. I'm from New York. I'm just here temporarily.'"
Jasmine explained the difference between summer vacations in high school and summer vacations in grad school:
"Summer break from high school…I didn't have to do anything. I was still living at home with my parents. My summer break was my summer break. I could go out with my friends all day. I could [lie] around the house all day. I could do virtually whatever I wanted to do. Summer break in college was a little different, but it wasn't really that bad…
I remember the summers when I could just do whatever, and I was actually trying to find things to do, but now it's like 'ugh, I have to go to work.' And to me, an eventful day is to just go to the movies, go out to eat…you know, the things that excited me back then [don't] really excite me now."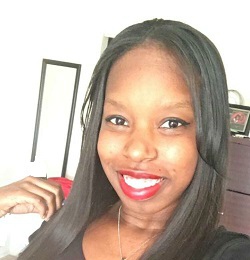 We talked about how her social circle has evolved over the years:
"You know, people change and people grow apart, but I can say the social circle that I have now…we have similar goals. We have similar agendas. And we just mesh well. We can kind of perfectly divide our time between when we have to go to school, when we have to do this, and when it's time to have fun. So it's like a really great balance, and I'm grateful I have people in my circle that are basically in the same point of life that I am in."
She described her journey of personal growth over the past few years:
"I would say I'm completely different now. Because back then I had everything planned out [with] how it was going to happen. I was going to graduate, and then I was going to go to college. I was going to major in history, but do it on a pre-med track. Get into medical school. Be a doctor. And live happily ever after…that didn't happen.
And that's exactly how I got to this point right now, because I learned that life does not go as you planned at all. It doesn't go as you planned, so now I don't really have a plan that far ahead.
Like right now, I have [a plan] that this is what I want to do, this is how I'm going to do it, and this is the end result. As opposed to just planning everything step-by-step; because I was 17 planning my life 10, 15 years from [then]."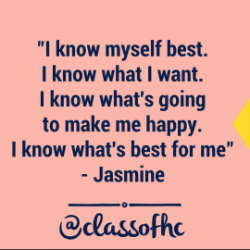 We talked about how her plan to go to medical school took a detour, and how she got through a period in her life when her dreams started to look shaky:
"Um…well, first I cried…I cried for like a day or two and then I got it together because I'm like, 'I can't just sit here and do nothing. I have a college degree, I'm not about to sit at home and sulk. I have to do something and prepare myself to try again and get it together.'
It was really an internal thing for me. My parents were always encouraging like, 'it's going to be okay. There's always next year, just do what you have to do now and you'll get there. You'll get there.'
So I always had the encouragement, but it was something that…I had to encourage myself. Because their encouragement…it was like, 'yeah, but it's not making me feel any better.' I had to make myself feel better."
Jasmine explained where she gets the confidence to trust and follow her own voice:
"I think I've always been like that. I think it was just the way I was raised. I'm going to do what makes me happy and I know myself best. I know what I want. I know what's going to make me happy. I know what's best for me.
When it comes to other people's approval, it never really mattered to me…except for my parents…and that's all I needed. Once I had that stamp of approval from them, and they were behind me 100%, everybody else's opinion [didn't] matter."
 Listen to our full interview with Jasmine
Check out some of the organizations that inspire Jasmine: