Stephanie is from Chicago, Illinois. She was living in the Chicago suburbs and spending her days "working…and when I'm not working, I'm with my son and with my family."
When we sat down for this interview, Stephanie had recently finished reading Paulo Coelho's The Alchemist, and we were excited to talk with a first-time reader of the Brazilian author's classic work.
Listen to "Conversation 38 (Stephanie)" on Spreaker.
Stephanie's Most Likely To Is: Most Likely to Be All Over the Place
She talked about some of the surprises of raising a two-year old:
"The biggest thing right now is his personality…when his personality came into play, it was like 'where did you get this from?!' So now, I have somebody who says, 'mom I want juice, go get it for me in the kitchen!' [And I'm like] 'Don't you talk to me like that!' Or he'll tell me to go get something, and I'm like 'who are you talking to?!'
Just seeing the things that he's interested in is really unique. My son likes to run around, but he's really into technology. If it's not a phone, it's a tablet. If it's not a tablet, it's a computer.
The fact that my son knows how to find the app, click the app, go to the search link, find a picture that looks like something he's interested in, click on it, and be able to find all the stories and videos that are posted about trains, it amazes me.
They say two-year olds are all over the place. They are, but when he gets that tablet, to see him actually focus…you get to see your child's potential. It's really interesting."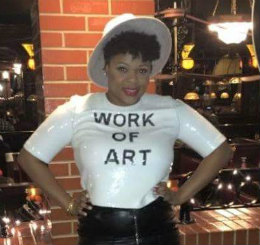 In The Alchemist, the main character (who is only referred to as "the boy") is a shepherd, and this is central to how he thinks about his life, his possibilities, and his dreams. We talked with Stephanie about what has been the driving force in her life:
"The only thing that I can say has really been a driving force has been experience. One thing I can say that I think relates to the boy and his journey in being a shepherd was that [although being a shepherd] wasn't looked down upon, it wasn't a job that was considered stable.
For me, experience is what kinda led me to say 'this is what I like. This is what I don't like. This is what I'm good at. This is what I'm not good at.' And for me, that driving point of having those experiences is what helped me build self-esteem and self-awareness."
Throughout the book, the boy encounters an interesting cast of characters. These characters have a way of either showing him something he needed to know, or helping to reveal something to the boy about himself. Stephanie talked about the people who were only in her life for a season, but had a big impact on her:
"Actually that really started happening when I went to college and I got to start experiencing people from different states and different countries. One thing I will say about all the characters in the book, [the boy often] talks about an omen.
You know, getting a good vibe or a bad vibe from somebody. It doesn't have to be very extreme…you can just say 'I don't like the way that person does that'…sometimes you can just look at those little things. I don't want to make it seem like you're judging someone, but you get a look and you get a chance to say 'is this something I can deal with?'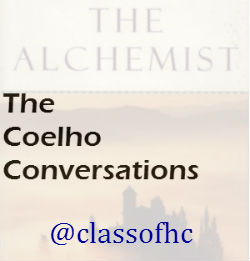 The main character in The Alchemist often finds himself alone on his quest. We talked with Stephanie about the ups and downs of trying to find people of similar spirit during her young adult years:
"For my college experience, I think it was the fact that we all knew that we were coming from our homes to a different place. We had all just graduated high school, we go to this university, we meet each other at orientation, and it's kind of like 'oh, this person is sitting next to me at orientation'…and you try it out. And so it made it a lot easier then.
It's harder now for me, especially being in the workforce…because now, although I have these goals and these ambitions, and I know that I'm doing a lot of my stuff alone…I want to share. And now I've been confronted with people who are like, 'well if you want to do that, why are you here?' And it's like, why aren't you supporting me?"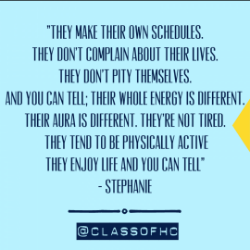 We talked about the realities of the real world, and meeting people whose dreams have been packed away. Stephanie spoke about what she does to stay inspired:
"For me, I do my best to network. And I network with people who are where I want to be. And that's my driving force. Like, okay, I see them and they've got a smile on their face. They make their own schedules. They don't complain about their lives. They don't pity themselves.
And you can tell; their whole energy is different. Their aura is different. They're not tired. They tend to be physically active, they like to work out. They enjoy life and you can tell.
And that's how I know I can keep doing this. I can keep doing this because she said that she ran into this problem before. When she ran into this problem before, she said that she would have handled it this way, and look at her now. And it will always keep you going. It never fails.
You may have your days when you might feel beat up. You may have days when you feel discouraged. But you talk to that person, you tell them about the situation, and look at ways you solved it, or ways you want to solve it…and then you keep going. You keep going."