Kasim is from Brooklyn, New York, and was in his third year of college in New York City at the time of his interview. He spent his days "usually working…working takes up most of my time. When school comes back, that takes even more time, but I still try to have my downtime and hang out with my friends."
Kasim's Most Likely To Is: Most Likely to Work Towards the Lifestyle I'm Trying to Live
Listen to "Conversation 35 (Kasim)" on Spreaker.
He explained why talking about his neighborhood of Crown Heights, Brooklyn is "bittersweet":
"It would have to be a bittersweet description because we're going through a process that's called gentrification. For those who don't know what gentrification is, it's pretty much this process where people of higher incomes move into areas of people with lower incomes.
And because of this – because of their high value – you know, moving in to this low-income community, this causes a boost in that particular economy. Which can actually [have] a negative effect [on] the people that originally resided in that area.
It will cause positive things like more businesses opening…you know, better food spots…there's going to be a safer environment…you know, things like that. But the bad part is that as a result of all the improvements, [there's] an increase in rents.
And that causes the people who originally resided there to…I guess…they can't keep up with the constant rise in rent…and they can't keep [their apartments]. They're forced to move out [or] – worst case scenario – they become homeless."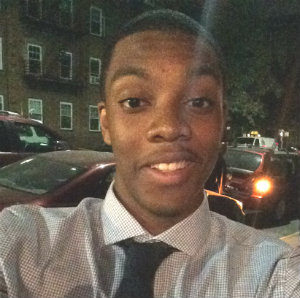 We talked about the difference between his "social media friends" and the friends he spends time with on a regular basis:
"Okay, on Facebook I have like maybe 500 – 600 friends. I don't hang out with 500 – 600 people. I'm pretty sure I have probably met those people, or encountered them like once in my life, but maybe like a good…I don't know…450 of them I'm not going to say I claim them as I would hang out with them like that.
The type of friends I hang out with are people [who] I feel I've built a bond with in a way. And I feel like they could push me to the next level. They could make me better, I make them better…you know, there's just certain people you rock with."
Kasim shared some of his memories from his childhood days as an "innocent" kid:
"When I was younger, I was like a goody-two-shoes, I was just really innocent…like seriously innocent. It was all about grades. I used to just hang out with like, the smart people.
Seriously, like when I would see someone that looked remotely bad, I [was] like: 'No, no, no. I'll stay away from them.' I was not playing [any] games…I was in the crib…as soon as school was done, I ran home!
As I [have grown] older, I [have become] open to anybody, to the point that I will hear you out…automatically when I hear you out, I can tell if I can rock with you or not. I guess when I was younger, I'd just see something, and I was just like 'Nah.' I wouldn't even hear you out or try to have a conversation.
I guess that was just a young me, as I said I was innocent. And it was a different animal…Crown Heights was different back then."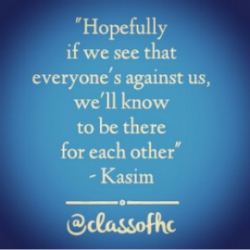 We talked about how his life goals shifted after his childhood plans to become a doctor "went through the roof":
"The one thing I know that I want to do…I want to be successful at something. I want to find something I'm good at, that pays a lot, to the point [where] I could provide for my family on like a life-changing type of spectrum… [where my family] would be living luxurious.
Another thing that pushed me towards [this mindset], is that I'm a fan of hip-hop. Although if you look at these hip-hop videos, most of the time [they] have negative images associated with [them]…but I just see the amount of fun these rappers have in these music videos, and I'm just like: 'Nah, yo look at them! They're just living beautifully right now!'
I want to push [towards] something like that…or at least have the ability to do something like that whenever I want! So I use that as a drive."
Kasim shared some of his thoughts about what's going on in our country at this time:
"From the country's perspective…I guess you're starting to see society become more aware, more aware of what's going on. And I'm starting to see more moves for the better. It started from seeing a Black president get elected, you know what I mean…that's something people never thought would happen. It's a privilege seeing a Black president get elected. It's kind of bitter that it's his last run…
So we're starting to see changes, you know. We're starting to see more versatility, and this could speak volumes because people could look at that and be like: 'If a Black person and a woman could be president…could run America…then I could do that.' It's definitely possible.
And I feel like with the negative things too, it's starting to become more obvious. Like with the killings…like with Eric Garner and Trayvon Martin…you know, brothas like that…you're seeing the police brutality…I feel like that's powerful because we could convert that and really come together.
Hopefully…if we see that everybody's against us, we'll know that we've got to be there for each other, so we could take each other to the next level."
Listen to our full interview with Kasim
Check out some of the organizations that inspire Kasim: