Courtney is from Chicago, Illinois. She was living in the western suburbs of Chicago at the time of her interview, and her days were spent working and raising her two kids with her husband.
Courtney's Most Likely To is: Most Likely to Take a Nap
Listen to "Conversation 30 (Courtney)" on Spreaker.
We talked about the difference between the perception and the reality of raising small children:
"Yeah, the baby fever is very deceiving. People see pictures of North West – you know, Kim & Kanye's daughter – and they're like, 'oh my gosh! I'm ready for one!'
…Yeah, it's more than that. It's hectic, I mean that's how I describe it…it's hectic. You think you have one thing handled, and then another thing jumps out at you.
…Kids are always growing and developing; more so than I think we even understand. More so than we can even comprehend. Their minds are growing so quickly, they're soaking everything in and sometimes they rush to burst it out as soon as they learn it because they're so excited.
It can be exhausting for the parent, but it can be real special and exciting too. But it's just so busy."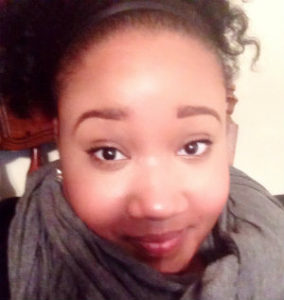 Courtney talked about the "blend of people" that she follows on social media:
"When I think of the people that impact me the most, there's a young couple in Atlanta. They're actually pastors, and I started following them when they had just gotten married. The wife was really an activist for celibacy, and for purity, and for saving yourself for marriage and whatnot.
…I started following her when I was actually single, I was a single mom…and I was living at home with my parents and I was kind of in an interesting place in my own life…and almost four years later, I'm still following them…I can't say that I relate to them, but something about them really resonates with me.
The honesty of their ministry. Their approach…they don't mince words and they speak very candidly to this social media generation.
…In addition to that…I follow a lot of hip-hop artists; I used to be very big into music. I follow a lot of poets. I follow a lot of chefs; I'm really into cooking and food. [I also follow] a lot of visual artists and photographers. So that helps me, to take a break from work…to be able to take a second and look at my iPad and get a little bit of culture is a nice break. And that's very important to me."
We talked about how she separates reality from perception on social media:
"Social media has created a huge level of insecurity because everything is so visible, so you're constantly comparing yourself to other people…I can't be overly critical, because I've done it. I'm not really in that frame of mind right now, but everybody does it.
…Even if you're posting a selfie, like how many poses do you actually go through?! How many photos do you actually take before you find your selfie?! And then once you find it, how many filters are applied?! How many apps do you use to adjust the photo before you actually post it?!
And then how long does it take to think of a caption to put under it?! You know, these are hilarious things…It's funny, but you have to remember in your moment of insecurity, in your moment of comparing yourself to others, that it's just not realistic."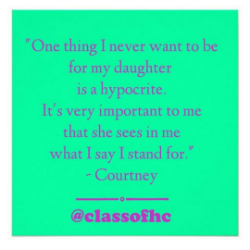 Courtney discussed her path of personal growth over the past few years:
"I've always had an interesting balance of faith and spirituality with urban pop culture. That's always been my blend. That's always been my thing…I've always spoken very honestly about my faith, and my struggle with my faith, and my struggle with pop culture and with urban realities and cultural representations. I've always been passionate about that.
…I was fearless. I was controversial. I was just so young.  I just wanted to experience everything. I thought everything was within my reach…I was dating, and I thought love was something that you see in movies.
I thought relationships were something that you see in music videos. It was just so different. Marriage to me now, having kids…it's hard work and responsibility. That was lost on me seven years ago."
We talked about what she sees as she looks at her city – and at our country  – in this moment:
"I think people are just crying out right now. It's very somber to me…I just think that there's something brewing. I think there have been a lot of important decisions that have been made on Capitol Hill, and a lot of important legislation that has come forth for equality and freedom for certain groups of people.
And that's good, but I think people are really starting to demand more. And everybody is so aware of issues of justice, of issues of equality, of issues of freedom."
Listen to our full interview with Courtney
Check out some of the organizations that inspire Courtney: