Neiko is from Chicago, Illinois, where he was living at the time of his interview. He spent his days "working, taking care of his three children, and coaching students."
Neiko's Most Likely To is: Most Likely to Be The Man That He Never Had In His Life
Listen to "Conversation 3 (Neiko)" on Spreaker.
We talked about his days as an "18-year old, immature kid" who joined the U.S. Navy after he graduated from high school, and about how his time in the military impacted his life:
"It instilled in me a lot of discipline. Don't get me wrong, I had discipline…but the military instilled more discipline into me than I ever saw [before]. It helped me to become a more positive and a patient person."
Neiko reflected on his journey of personal growth over the past 7-8 years:
"I guess when I was growing up I was all about the hottest fashion…the newest things out…the materialistic things. Since I've had kids though, that materialistic outlook has subsided a lot. I don't really too much care about myself in that sense, I just want to make sure that my kids and my family are right."
He spoke about the values in his life that have always been important to him:
"A man's word…being able to go off your word…the word to me is the biggest thing. Nowadays, you've got a lot of people who say 'oh, I'm going to go by my word…this, that…and it never comes through.' To me, that's what makes a man…is by going off his word."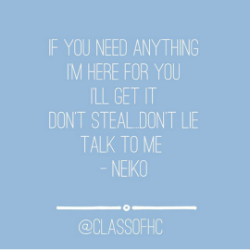 Neiko shared his thoughts on life in Chicago, and his ideas for how struggling communities can move forward:
"Living in Chicago, you want to be around positive things…because like I said, all I see out here is death and negativity. For that to change, we've got to have all these big-time people…all the people who are from here…they've got to stand up for what's right at home before they can go out and try to correct something.
I was always taught, make sure your home is corrected before you try to do something else…home is not corrected right now, it's going down the drain."
"For my generation and the generations after me, I feel there are no civil rights leaders…we have the older people who have been in the game for a long time still out here trying to fight and do whatever they can for us…but what it looks like to me, is if we can come together and go out there as one, that's going to do a lot more for us."
He explained some of the things that he and his wife do to create a healthy and safe environment for their children:
"With kids nowadays – because it's a different breed of kids out here – you have to instill in them the positives. Gotta let them know 'if you need anything ask me, I'm here for you, I'll get it, don't steal, don't lie, talk to me.'
Truth be told, if we were raised the way some of the older people were raised back in the day, I think we wouldn't have that many issues."