Noor is from Saudi Arabia, where she was living as a journalist, educator, traveler, CrossFitter, and aspiring screenwriter at the time of her interview. Her days were spent, "meditating, reading, and trying new things whenever I can."
Listen to "Conversation 27 (Noor)" on Spreaker.
Noor described how she likes to begin each day:
"Whenever I wake up any day, any time, I always wish [to] meet someone interesting that day. If not in person, then online, or at least [I try to] read something interesting about someone. It's always a motivation to me.
…I think everyone is interesting…everyone who is different [from me]. Everyone has a different story to tell me and becomes at a certain stage in my life or in their life, interesting. So they have got something interesting to give me."
We talked about some of the people Noor follows on social media:
"Quite a few you know, it's not just one or two, but so many people who I follow on social media are interesting to me. Some of them are people who I have met in real life. Some of them are still waiting [for me to meet them].
Number One to me, and the person who really influenced my life with his books and writings, is Paulo Coelho…his best seller is The Alchemist and it is a life-changing book for so many people including myself."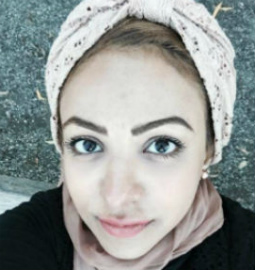 We talked about her journey of personal growth over the past few years:
"It's not one big change or one big thing [that] happened, [there were] so many events that made me the person who I am today. There are lots of things that were important to me years ago…I used to be obsessed with makeup and fashion…I would go and spend a lot of money on my makeup. Chanel is my favorite. Dior as well. Those are the top two. 
I used to be obsessed about fashion as well, and my looks. I'm not saying that it [is no longer important to me], I am a woman and I love to dress up and look really nice. But the way I look at it right now is different than the way I looked at it back then.
I think I used to look nice because I wanted people to tell me that I looked nice. Right now, I know that I look nice so I don't really care whether people tell me that or not."
Noor shared some of the things she has learned from her travels to different countries:
"I think the more I travel, the more I realize that we really are all the same. We have the same concerns, the same problems …the same things that make [us] happy. Like falling in love, or meeting someone who is great, or having great food.
The same things that make people happy are always everywhere. This is something that I'm really grateful to know. Before I traveled, I'd always think that people are so different, and [that] I would feel like a stranger, but I never, ever feel like a stranger where ever I go. I always belong to any place I go.
…To me traveling is about discovering yourself. Discovering at least one part of yourself which you didn't [know existed] before you traveled. At least one part.
For me, when go I back [home] I always think, 'What did I learn from my trip this time? What did I gain from this trip besides the contacts and the people I met?' There will always be a part of me or a side of me that I have learned [more about]. This [is] the treasure of every trip that I take."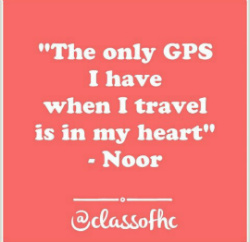 Noor talked about some of the people who inspire her:
"I would like to highlight the role of a mom in every family… I do believe that mothers do make the world a better place. When I see a mom on New York [City] roads, in Times Square, with a stroller…it's just so hard to imagine what kind of life she goes through.
Especially if she is a single mom with no help. It's just so hard. Then I think, 'Why does she want to be a mom?' Most of the time she likes it. She enjoys it. And she enjoys the sacrifice, you know, of her time, of how she looks…it's amazing how a mom feels. It's amazing the influence she brings to the family, and to the whole world."
Listen to our full interview with Noor | Keep up with her latest thoughts on her blog.