Joshua Jackson is from Jacksonville, Florida. He was living in Los Angeles, California, and had recently authored his first book, How to Pimp Corporate America, at the time of his interview. In his book, Joshua takes an extensive look at the steps it takes to reach the highest potential of success.
Listen to "Conversation 24 (Joshua Jackson)" on Spreaker.
By combining his experiences with those of friends and family, Joshua has created a strategic plan on how one can effectively "pimp" themselves in order to achieve great success in their everyday 9-to-5.
During his spare time, Joshua "loves to write poetry, loves to write novels, loves to write anything." He spends a lot of his time traveling to different cities, and loves to eat. A self-described foodie, Joshua "definitely enjoys eating different foods and different cuisines from all over the world."
Joshua's Most Likely To Is: Most Likely To Succeed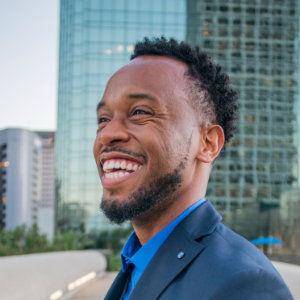 Joshua talked about when his love for writing began:
"The writing piece was always in me as a kid. I've always been fascinated with literature and I used to always to read books as a kid. I actually was teased by my family members because I used to always read on Friday nights when [TV networks] would have the whole Friday-night lineup…and I would just be in my room writing and reading, that's all I wanted to do."
We talked about how encouraging words from his peers made a big impression on him early in life:
"It meant a lot to me. It still means a lot to me to this day. A lot of times you don't see a lot in yourself, but others see a lot more about you than you see for yourself.
At that age, not that I didn't see myself as being successful, I just saw myself honestly as just a regular guy that just liked to have fun and just liked to help people out…and they just ended up seeing a little bit more than that.
And when they saw that in me, it instilled something inside me at a young age to say, 'wow, okay, I wonder what I'm going to do? But I know whatever I'm going to do, I'm going to change the world in a positive way.' And I knew I had that vision as a little boy, I was about seven or eight."
Joshua explained the idea behind the tagline for his book, "You have to pimp yourself in order to pimp Corporate America."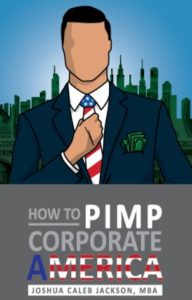 "The reason I came up with the idea of the book is that I felt like there were so many resources out there that talk about owning your own business, being an entrepreneur, network marketing, etc…
I'm talking more about being successful in your nine-to-five job, there aren't a lot of books that talk about that…There are people who work a nine-to-five job, who only want to work a nine-to-five job, and that's what I hone in on in the book in the first nine chapters. You can be successful at your nine-to-five job, you just have to understand what the tools and the tips are, which I explain in my book."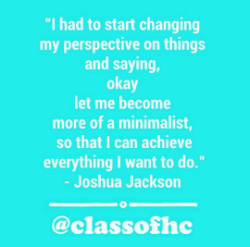 We talked about how his priorities and values have changed over the years:
"I would say for me the material things such as my car… back then I had on my vision board that I wanted a Mercedes-Benz, and I got it three years after I did the vision board. And now I'm like, okay well, I got it, and that was fine, and that was fun, but now I don't really need it.
Now I can use the technology of today… or public transit to get around in L.A. because I do work anywhere. I can work at Starbucks. I can work at home. I can work in another state if I want to. But I don't necessarily need a car."
"And that's really what I had to ask myself. Is me having this house that's over $2,000 a month to rent, me having this car note and this car, this nice Mercedes-Benz…are these helping me out with becoming a motivational speaker, becoming a better writer, etc…and all those other goals I want to achieve?
No, not really. If anything it's holding me back. I had to start changing my perspective on things and saying okay, let me become more of a minimalist, so that I can achieve everything I want to do."
Listen to our full interview with Joshua | Check out his career coaching services at his site: The Corporate Pimp
Check out some of the companies that inspire Joshua: