Atisha was born in Guyana, South America and spent her early childhood years there before moving to Brooklyn, New York, where she spent her teenage years. At the time of her interview, she was living in New Jersey and spending most of her days "drawing a lot."
Atisha's Most Likely To Is: Most Likely to Succeed Creatively
Listen to "Conversation 23 (Atisha)" on Spreaker.
Atisha talked about the kind of drawing she does:
"It's basically about this alter ego I created that represents myself. She's going through life living as a hybrid. She's experiencing certain things that I've experienced. I use that as the premise for the drawings.
Most of it is pen and ink. I use blue ball-point pen to make the people, and that's the color of their skin. Most of the rest of the drawing is environment, so I use mixed-media for that."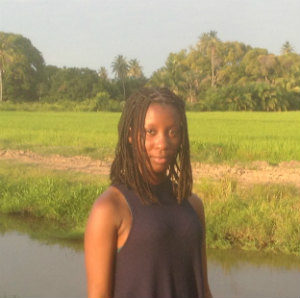 We talked about how her family and her Facebook friends influence her art:
"One thing that I have to stay constant with in order to get inspiration is [keeping in] contact with my family. Most of my family lives in Guyana, so I'm always talking to them. I'm always asking them to send me pictures because I can't be there.
…all my little cousins; I want them to know me. I want them to know who I am, not just that they have a cousin named Atisha who lives in America [but they] don't really know me. So I like to stay in constant contact with them."
I like to read a lot and Facebook is very helpful in my practice, because it helps me to keep up-to-date with current events. I can get the gist [of topics], but then I can go and do my own research [about] what's happening around the world.
The Diaspora is not just about my Guyanese-American experience, it's about every Black person…it's about everyone…it's important to have the experiences of everyone around me."
Atisha talked about the difference between the person she is today and the person she was 7-8 years ago:
"The biggest difference is being aware of my cultural identity. It's also being aware of my beauty. I feel like a lot of young Black girls have had the same experience as me or something similar where they just didn't feel beautiful.
Or the things around them, or the people around them, didn't make them feel beautiful. Or they felt beautiful, but felt like they weren't allowed to feel beautiful…or that they didn't have that right to feel beautiful.
That was a big part of my childhood… learning to accept and embrace."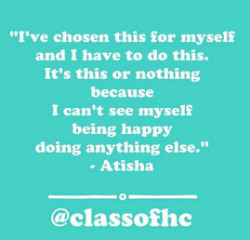 We talked about some her biggest influences:
"I have to talk about Janelle Monae. She's one of the people who've influenced this series I'm working on right now…I feel like she's always very positive and uplifting of the people [who] have been oppressed for so many years and she's bringing awareness to those kinds of things through being creative. I don't think a lot of recording artists are able to do what she is doing."
Atisha shared how she is coping with the incidents of suffering that have appeared in the news over the past few years:
"It just makes me so sad to the point that I get a little bit hopeless. I'm sure a lot of people have felt this way, but I know that it's really not helping to feel hopeless and to just give up…but that's the way I've been feeling a lot lately.
But I do know that there are some things that I can do to help in small ways. Because if we all help in a small way, it can make a big difference.
I can't say I'm gonna go out and change the world by myself, or try to change government policies by myself, because I'm not in the position to do so…but I am interested in teaching art. I feel like art should become a part of every single school curriculum.
…I think art should be like math, science, and social studies in school. If everyone is able to have a conversation around art, then everyone would be able to be more open about their feelings and talking about issues. And less scared."
Listen to our full interview with Atisha
Check out some of the organizations & programs that inspire Atisha: