Toshawna is from "a small but really prominent village" in Guyana, South America. At the time of her interview, she was completing her final semester of college in New York City, living in Brooklyn, and spending her days "planning, organizing, [and] trying to get a lot of work done for multiple projects."
Toshawna's Most Likely To Is: Most Likely To Start Something New
Listen to "Conversation 13 (Toshawna)" on Spreaker.
"I've always been one to be interested in taking part in new projects, especially stuff that deals with being creative. In terms of actually bringing [these kinds of projects] to life, this only has occurred in college, because before that I didn't have enough confidence to do it most times…maybe a little bit, but not as much as [I do] now."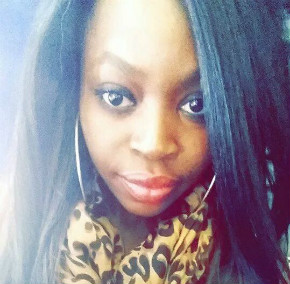 She talked about what has changed for her over the past few years:
"It's been a journey in that sense, because I was trying to find myself throughout the first couple years of high school. After high school – I think not even until probably the end of sophomore year of college – did I start finding myself and being comfortable with who I was.
Because that's another thing you have to get accustomed to in high school…being you and being comfortable with being you. I don't think I got into that until actually coming into college where everything is so free."
We talked about what allowed Toshawna to embrace being in a new and diverse setting, instead of fearing it:
"I think it's because I've always been open to new experiences, and I've always been interested in learning new things. So being in a diverse community was exciting for me, because I'm not around people who are just like me all the time.
There's something new to learn all the time. Today I could be speaking to someone from Marrakesh, the next day I could be speaking to someone from Shanghai or someone from a small village in a southern African country or something."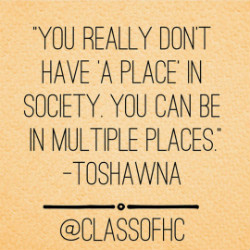 She shared some of the things she appreciates more now than she did in the past:
"I also appreciate support systems even more, because a lot of people don't have that…I came to the point in college where I [realized] that my parents could have just been like, 'no, I can go and do for me now. You're in college, do what you've gotta do.'
But they continue to support me, and it's because of their sacrifices and stuff like that, that I actually made it through college and became who I am today."
We talked about what Toshawna sees when she looks at her city:
 "When I look out at New York, I see people trying to be happy and have that American Dream and I feel like it's really hard because you're fighting every day. I don't think you should have to fight to be happy, it should just come naturally…
I'm optimistic that, especially with the unity [among] my generation coming together…with all of the inequality and injustices that have been going on in New York and throughout America for the past couple of months and years now…
Seeing all [of their] efforts to try to come together and get rid of this attitude of hate and racism and all these other negative vibes…I think a lot of people share these values and share this want for equality and peace. And we can get there."
Listen to our full interview with Toshawna
Check out some of the organizations & people that inspire Toshawna: