Faith is from Brooklyn, New York, where she was still living at the time of her interview. She spent her days "working, preparing to back to college, and being a full-time mom."
Faith's Most Likely To is: Most Likely to Be Inspirational
Listen to "Conversation 11 (Faith)" on Spreaker.
She explained when she started thinking of herself as an inspirational person:
"I feel like even at [a] young age, I was always someone who stood out and I was always a leader…I was always someone [who] tried to be extra-positive about things.
I went through stuff just like everyone else, but I tried to always be inspirational and – even if I was going through something – to put what I was going through aside to help someone else."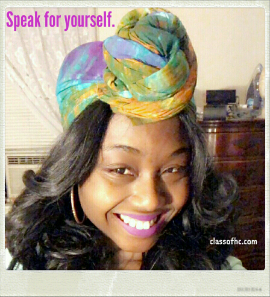 We talked about how she chooses who to interact with on social media:
"If I see someone posting something negative, or they're just constantly having drama…I'm not going to unfriend her, because something I post could help her along the way.
And I don't want to intrude in her life and be like, 'Listen…as a young lady, as a mom… I don't think you should be doing that.' On my Instagram, I make [sure] that the people I'm following have impacted me somehow.
In life, I meet all sorts of people. At my job, I meet all sorts of people. So, I make an intentional [decision about] who I'm going to keep close to me…As a mom raising a son, I need to hone [in on] the people around me, because they may be around my son."
Faith described her journey of personal growth over the past few years:
"Focus was important to me in high school because I felt like I had family that I had to make proud. Now that I'm a mom, I'm working, and I'm sort of independent in the sense that it's all up to me now…and I have a young son that's looking up to me now…my focus has shifted.
And it's even more intense. Now, because I'm raising someone, it's not just me…it's not just self anymore…it's about someone else and someone else that's even more important."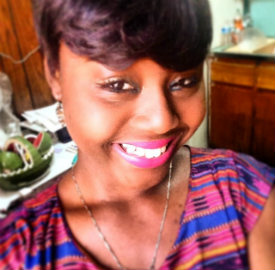 We talked about what she sees as looks at her city, and at our country:
"I'm seeing a lot of people, and a lot of souls, who need mentorship…who need guidance…We lack mentorship. We lack togetherness.
If we were to take a pause and assess the fact that we have the power to change things, we would definitely be able to grow as a people, grow as a community, and grow as a nation.
When I look out on my city, I see a lot of people who want to have that positive influence on someone else, but they just don't know how to go about it. And it's funny because, on the other hand, I look out on my city and I see a lot of people doing positive things…
For us to get to that ultimate goal, for everything to be positive, for things to change, we all have to come together."