Aquillia is from Palmdale, California and grew up in Chicago, Illinois, where she was living at the time of her interview. Her "days, nights, and some weekends" were spent teaching ninth grade reading at a high school in Chicago.
Aquillia's Most Likely To is: Most Likely to Reinvent Herself
Listen to "Conversation 10 (Aquillia)" on Spreaker.
She explained what kind of reinventing she's doing at this point in her life:
"I just feel like there are a lot of things that I'm not afraid of doing anymore, that I might have been hesitant to do before or just things that I've wanted to learn how to do that I would love to do now…and I put myself in those positions.
I think that I'm constantly trying to learn new things, or start new things, or discuss new things. I feel like before I was in a very small box, and now I'm just willing to do a lot more. So, I'm constantly learning more about myself, and reinventing as I go."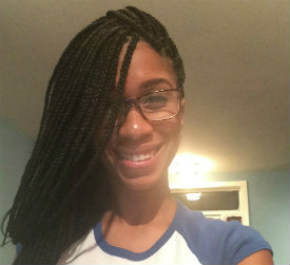 We talked about the impact her family upbringing had on her life:
"Looking at what my mom did for me and my sister, and how she chose to be around for us…and my grandma too…and my dad…and how they had this whole trio…they had a whole dream team and they were really on us at all times.
You couldn't get away with anything! They made it their mission to really hone in on us, and [let us know] that we were the most important thing in their lives regardless of what was going on. And I just want that same kind of mindset [in my own family] …and I'm trying to build towards that now."
Aquillia talked about how she uses social media:
"The most important people I follow on Instagram are small, Black businesses…They are all people who have either started their business because they wanted to see improvement in the Black communities and said 'hey, if we recycle these Black dollars in our own communities, we can see a massive growth' or people who just have awesome ideas and are really going forth with their dreams and they want to sell their products…those are the most important people."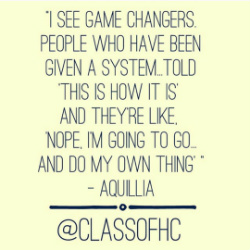 We talked about why she embraces the label 'awkward':
"I think I feel more awkward than I actually am…which then to me feels awkward. I think I can put on a good social front and not seem as awkward…because I'm into fashion, and I'm into all that stuff.
But inside, I'll be thinking the most awkward thoughts…but it would never show on the outside. I think it's the way that I think about my actions…it's awkward.
I think of one of my friends… [she and I] are both awkward in our own ways and we do love Issa Rae, she is our hero…she is the "Awkward Black Girl" queen, and we dutifully follow her…we love her."
Aquillia talked about the different elements she sees in her generation:
"I feel like it's this crazy pendulum…I see no positives…and then I swing to the other side and I see some many good examples…I think it's what you choose to look for.
Because in any neighborhood, in any generation, you can choose to see negative things all day and only point out those negative things. But I see my [students] and they have some really positive family stories, and they have really authentic things about them, and that encourages me."
"I see game changers. I see people who have been given a system and [have been told] that 'this is how it is' and they're like 'nope, I'm gonna' just go this way and do my own thing'…and they're doing it."
Listen to our full interview with Aquillia
Check out some of the organizations & programs that inspire Aquillia: