This post is not about this beautiful 1930 Model A Ford. This post is not even about the car's owner, a friendly older gentleman who I met last Saturday.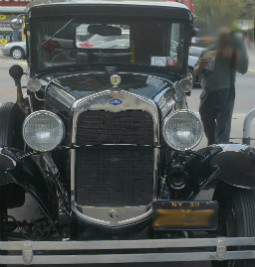 I met him at the end of an afternoon in The Bronx. On a street called Arthur Avenue, which is located about half a mile from the Bronx Zoo and the New York Botanical Gardens and three miles from Yankee Stadium.
In other words, this street should be gentrification ground zero.
Instead, I witnessed a side of New York City that I didn't think existed here anymore (or in any other older, industrial, northern U.S. city for that matter).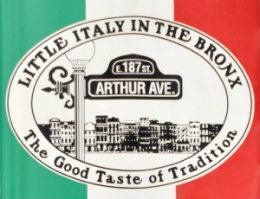 I walked up and down what would be eight normal city blocks of uninterrupted community-owned economy. I had to stop and take notes.
I spoke with a couple of older guys who owned one of the Avenue's pizza shops. I asked them how this community managed to fend off the forces of gentrification that have stampeded through so many of the city's ethnic enclaves over the past ten years. There were two words these men used to describe how their community built, maintained, and protected this Avenue: Family and Community.
And while the co-owners informed me that rents were also on the way up in their neighborhood, and lamented that the family-centered, community-oriented nature of their Little Italy neighborhood was dying away with the elders of their community; it is worthwhile to document what Family and Community built and sustained on this half-mile strip in the center of The Bronx: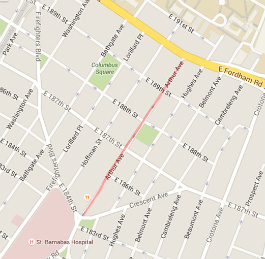 Places to Get Something To Eat:
6 pizza restaurants, 8 Italian sit-down restaurants, 1 cheese store, 1 yogurt / smoothie shop, 1 Chinese food shop, 1 deli, 2 Mediterranean sit-down restaurants, 1 Mexican restaurant, 1 tapas restaurant, 4 bakeries, 2 diners, and 1 sandwich shop
Places to Get Something To Drink:
5 coffee shops, 2 wine stores, and 3 bars
Places to Get Something To Smoke:
1 hand-rolled cigar store
Places to Get Your Look Right:
2 nail salons, 2 beauty / hair salons, 1 shoe store, 1 barber shop, and 1 laundromat
Places to Take Care of Yourself:
1 pharmacy, 1 medical clinic, 1 podiatry clinic, and 1 dentist office
Places to Pick Up Something For Yourself:
1 electronics store and 2 cellphone stores
Places to Buy A House:
Places to Buy Random Stuff:
3 novelty stores, 1 party supply, 3 corner stores, 1 99-cent store, and 1 men's clothing store
Places to Buy Food To Cook:
2 fresh seafood grocery stores, 4 fresh meat grocery stores, and 1 regular grocery store
Places to Honor Loved Ones:
Places to Take The Kids:
1 small public park with kids' playground
Places to Take Your Money:
AND a historic indoor bazaar/market .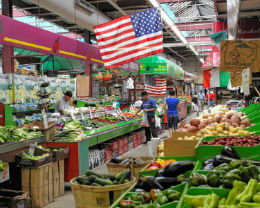 I've been thinking a lot lately about how our community can move from pleading, praying, and petitioning to be treated with dignity…to something better.
Is it possible to recreate 2 or 3 of these literal Black Wall Streets in every city in America? Many of our scholars, including Dr. Claud Anderson, have given us the blueprint for how to get there. I realize of course that such streets did exist not too long ago. And we know what was done to them.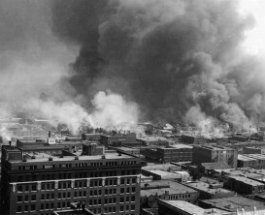 So what should a community-owned economy look like to serve the needs and aspirations of communities in 2016 Black America? Should the focus be on creating physical Black Arthur Avenues around the country, or should we be creating virtual ones around the Web?
And in this election year, how do we use Family and Community to create multiple seats at the adults' table of power so that our needs are addressed regardless of who moves into the White House?
– Day G.
Host, Class of Hope & Change